Enterprise Information Management / Florida DOT

Florida Department of Transportation (FDOT) launched a statewide initiative to better manage and integrate agency data. This effort combines the resources, goals, and objectives of Florida's Technology and Operation Divisions into the initiative known as ROADS, which stands for:
R—Reliable, accurate, authoritative, accessible data
O—Organized data that produces actionable information
A—Accurate governance-produced data
D—Data and technology integration
S—Shared agency data to perform cross-functional analysis
The agency has created processes, procedures, and guidelines so that all data (financial, safety, project, program, assets, etc.) are organized and accessible. Florida's steering committee, known as RET (ROADS Executive Team), is led by the agency's Chief of Transportation Technology and Civil Integrated Management Officer. The committee, which includes district secretaries, financial and planning executives, and operational directors, is charged with governance leadership and instituting processes that will change the culture of the agency by converting data to knowledge.
ROADS is being implemented incrementally, through a series of 6-month initiatives. One initiative related to asset management is to standardize inventory attributes for 120 different classes of infrastructure assets and the agency's approximately 170 enterprise software applications. Part of this effort is to determine specific authoritative source data to include in a new data warehouse. The data warehouse will provide a single authoritative site for sharing the accurate data.
Through the ROADS initiatives, Florida DOT has created a strategic direction for data integration covering data stewards, division responsibilities, asset inventory, business system integration, and an implementation roadmap. By coordinating its efforts, the agency is able to maximize the value of its data while streamlining processes for data collection, management, and dissemination.
Florida DOT Enterprise Information Management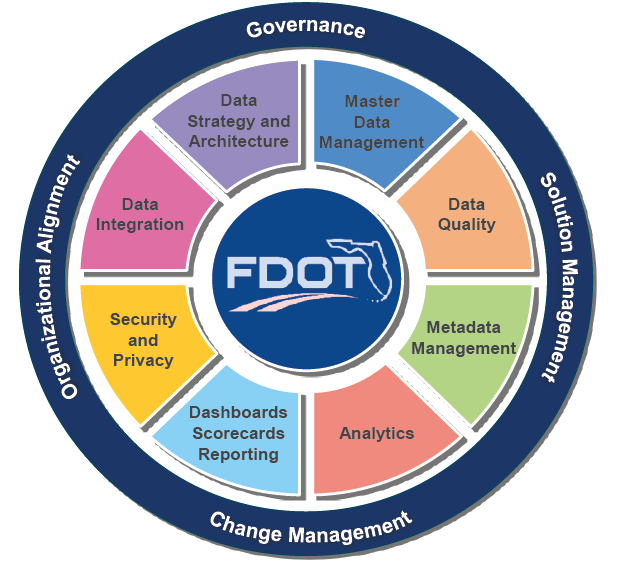 Source: Florida DOT. 2019
Read more in the chapter:
7.4.1 Fundamental Concepts and Principles