Guide Home
/
5. Resource Allocation
---
Section 5.1
Resource Allocation and Prioritization Process
Resource allocation is an interconnected process of decisions about how to allocate funds to different assets, often driven by legal requirements or a desire for better accountability. DOTs face a variety of constraints when trying to manage their assets, which makes it especially important to apply rigorous, data-driven methods when making long-term choices.
---
Section 5.1
Resource Allocation and Prioritization Process
Resource allocation is an interconnected process of decisions about how to allocate funds to different assets, often driven by legal requirements or a desire for better accountability. DOTs face a variety of constraints when trying to manage their assets, which makes it especially important to apply rigorous, data-driven methods when making long-term choices.
---
---
Washington State DOT
Washington State DOT has worked closely with its legislature to adopt asset management based resource allocation policies.
The following is an excerpt from state legislation that was last updated in 2002:
"deficiencies on the state highway system shall be based on a policy of priority programming having as it's basis the rational selection of projects and services according to factual need and an evaluation of life cycle costs..."
– RCW 47.05.010
This legislation along with good business practices has made Washington State DOT have one of the most mature asset management practices and an integrated set of tools, business processes, and organizational culture to support good asset management.
Michigan DOT
Michigan DOT recently introduced principles of performance-based contracting to their routine highway maintenance delivery. The focus of this initiative was on developing a better understanding of performance, providing more consistency of service, encouraging innovation adoption and identifying efficiency opportunities.
To achieve this MDOT developed performance measures for 23 non-winter maintenance activities. They then examined how these activities contributed to the objectives and community outcomes MDOT wanted to achieve (e.g. safety, reliability, economic benefit, and quality of life) and used that analysis to select six initial key measures for which targets were set to focus the effort. The performance monitoring system helped one MDOT region identify unsealed shoulders (ensuring they are even and traversable) as an area requiring improvement. They invested in additional shoulder maintenance in 2015 and from this realized a performance increase of more than 30%.
MDOT is using this performance monitoring approach to better understand the cost of improving its maintenance level of service. The agency is also identifying specific resources to focus in areas where it can achieve a more consistent and safer outcome.
New Zealand Southland District Council
Southland District Council (SDC) manages one of the largest road networks in New Zealand. Dairy farming is critical to the economy of the local area and more broadly to the Country (SDC generates 10% of New Zealand's dairy exports). In the period 2000-2010 there had been significant expansion of the dairy farming industry and further expansion was likely. Maintenance and renewal costs were estimated to increase significantly and SDC's road rates were already among the highest in the country. SDC recognized that a new approach was necessary and they could not keep doing things the same way.
SDC developed the Economic Network Plan as an asset management approach that allowed SDC to determine where investment in the network would provide the greatest financial return to the community. The Economic Network Plan considered the following services provided by the network:
Safety
Road Condition (Levels of Service)
Enable Exports
Service Delivery
Customer Quality
Consideration of the resources required to maintain the network led SDC to the decision that its highest volume roads would be maintained to its then-current LOS standard. These roads represented 20% of the road network but carried nearly 70% of the traffic. The remaining 80% of the network would have a reduction in standard over time. The Economic Network Plan provided the basis for this change.
Like many agencies, the SDC was forced to take a different approach when financial constraints required change. It enabled all parties to focus on:
Shifting from 'Engineering' to 'Customer Service Network Management' (why the service is provided)
Managing customer expectations proactively rather than reacting to them
Making safety a priority
Investing in technology and information to understand, manage and integrate with HCV operators
Source: https://www.nzta.govt.nz/assets/Road-Efficiency-Group-2/docs/southlandnetworkplan.pdf
Note: For more information on this example, see the case study on the SDC's experience in the International Infrastructure Management Manual (IIMM).
South Dakota DOT
SDDOT's agency mission is "to efficiently provide a safe and effective public transportation system." To support this high-level goal the agency sets ten-year objectives for its pavements and bridges, as well as a minimum acceptable condition for pavements. For pavements SDDOT summarizes conditions using Surface Condition Index (SCI), a composite measure represented on a scale from 0 (worst condition) to 5 (best conditions) that incorporates measures of roughness, rutting, faulting and distress indices. For bridges, SDDOT summarizes conditions based on the percentage of structures in good or fair condition, using the FHWA good/fair/poor measure for classifying the condition of a bridge.
To determine how to allocate capital funds for state-owned pavements and bridges SDDOT relies heavily on its pavement and bridge management systems. The agency predicts conditions for a 10-year period for a range of different budget levels, and then compares the predicted performance to the agency's goals and objectives. The figures, reproduced from SDDOT's 2018 TAMP, show results in terms of predicted SCI over time for five budget scenarios generated using SDDOT's Pavement Management System (PMS), and results in terms of percent of bridges in good or fair condition for two budget scenarios generated using the agency's Bridge Management System (BMS).
Given the projections as well as additional projections of pavement condition for six functional systems, the agency uses its Trade-Off Tool to evaluate the impact of different funding scenarios and recommends the funding distribution that will produce the greatest benefit. The final result of the analysis is a distribution of funding between asset type and functional system, as well as the distribution of funds between four types of work:
Construction and Reconstruction
Resurfacing and Asphalt Surface Treatment
Rehabilitation and
Safety
Decisions about what capital projects to perform are then made given the funding level established in the trade-off analysis.
Source: SDDOT Transportation Asset Management Plan. 2018.http://www.sddot.com/resources/reports/SDDOT2018TAMPFHWASubmittal.pdf
State Network Investment Strategies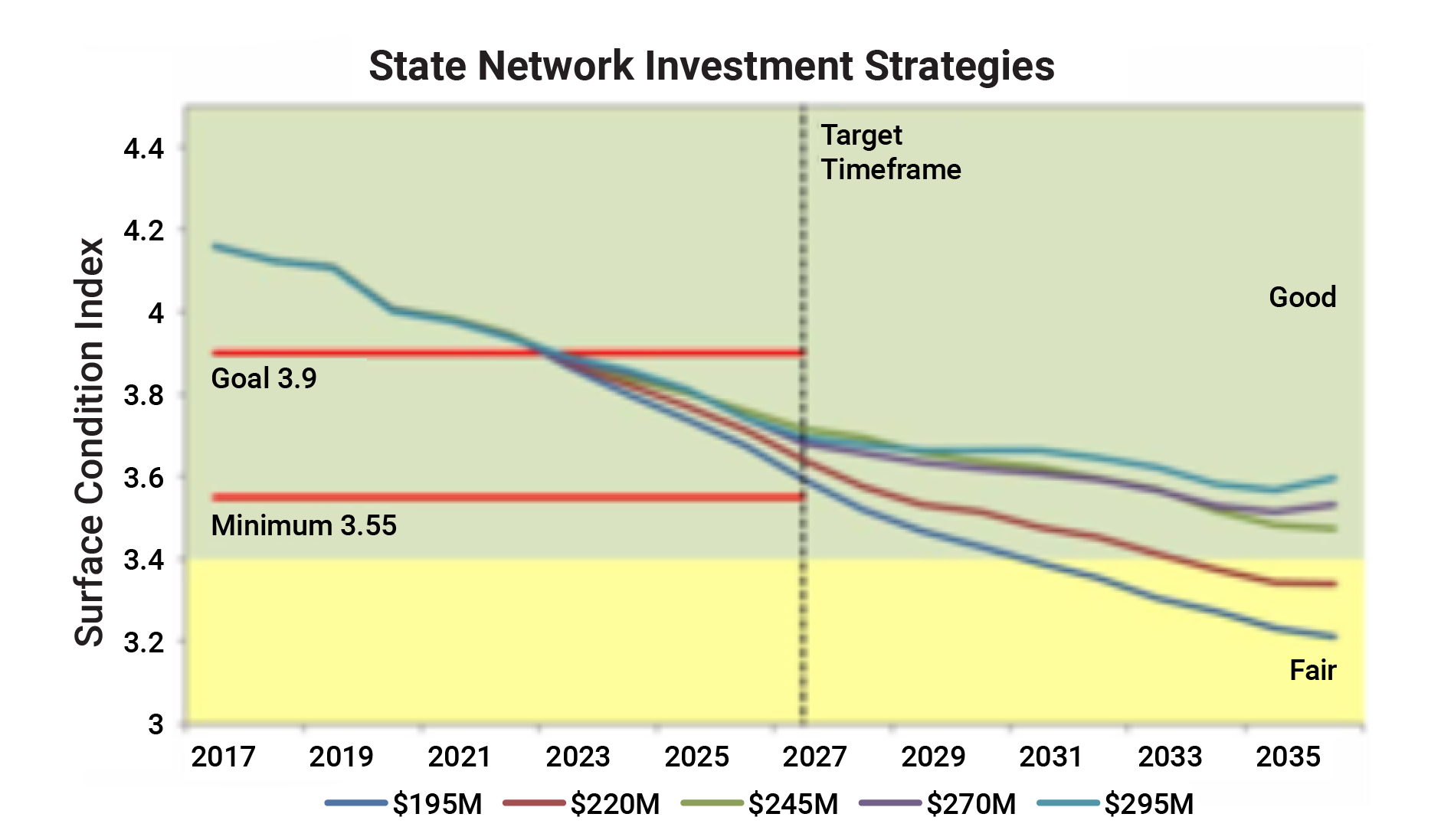 State Network Structure Investment Strategies
Caltrans
Caltrans initiated its Seismic Safety Retrofit Program in the wake of bridge failures experienced in the 1989 Loma Prieta Earthquake. Through this program Caltrans evaluated the retrofit needs for all of the over 12,400 bridges on the State Highway System (SHS). Retrofit needs were prioritized using a multi-attribute procedure that calculated a score for each bridge considering the likelihood of an earthquake at the bridge site, the vulnerability of the bridge to collapse in the event of an earthquake, and the impact of a collapse considering the traffic using the bridge and detour distance in the event of a collapse. Through 2014 the program resulted in retrofit of 2,202 state highway bridges at a cost of over $12.2 billion.
Sources:
2018 Caltrans TAMP
Practical Lessons from the Loma Prieta Earthquake (1994), p. 174-180 https://www.nap.edu/catalog/2269/ practical-lessons-from-the-loma-prieta-earthquake
University of Massachusetts
The Sustainable Solutions Lab at the University of Massachusetts Boston used a scenario-based approach to analyze the feasibility and potential risk reduction of Boston Harbor barrier systems to protect the Boston area from future flooding due to sea level rise. The report included an economic analysis in which costs and benefits were predicted for 32 scenarios considering:
Two barrier system alternatives
Two construction time scenarios
Two scenarios for effectiveness of "shore-based solutions"
Low and high construction cost estimates
Discount rates of 3% and 7%
The analysis indicated that the benefits of the proposed barrier system would exceed their cost for both systems evaluated, but only in the case that one assumed a low discount rate, accelerated construction schedule, and failure of other shore-based solutions for mitigating sea level rise. Also, the analysis indicated that beyond a certain point sea level rise would be such that a barrier system would no longer prove effective (since the barrier would have to be closed at all times rather than only during flood events). The report further predicted costs and benefits for two alternative scenarios involving incremental adoption of a variety of shore-based mitigation approaches, and recommended an initial focus on shore-based adaptation as the most promising strategy for the City of Boston to address sea level rise.
Source: https://www.greenribboncommission.org/wp-content/uploads/2018/05/Feasibility-of-Harbor-wide-Barriers-Report.pdf
Regional Municipality of Peel
The Region of Peel is the second largest municipality in Ontario, just west of Toronto and supports two cities and a town. Peel assesses needs and priorities across a diverse portfolio of Infrastructure that supports a variety of programs and services including an arterial roads network, solid waste management, water and wastewater treatment distribution and a variety of social, health and emergency services. The Region integrated a number of inputs to enable an optimized investment methodology including a Risk Management, Level of Service, and Life cycle Management Strategies and prioritize needs across diverse infrastructure, as illustrated in the figure. The integration of these three strategies was possible through three enablers and working with all of the programs and services to model their infrastructure:
Establishing a consistent approach to quantifying risk – The Region evaluates the degree of risk that is currently being accepted associated with delivering service levels. Inherent risk (similar to asset criticality) and residual risk (the Region's risk objective) are established and the current level of risk that an asset presents to service delivery is also determined. The gap between current and residual risk represents the unmet funding and asset needs.
Establishing a normalized method to determine current level of service to assist the cross-asset funding allocation task. The adopted normalized indicator was determined to be: LOS=% of Assets Meeting LOS + (% of Assets Not meeting LOS x Average Condition of Assets not meeting).
Adopting a direct relationship between LOS and risk that allows for an analysis of alternative investment scenarios, and modeling techniques to optimize investment allocation. It also allows annual infrastructure evaluation based on the most current condition information and annual Asset Management Reporting.

Peel's risk-based approach to asset management is integrated with the Region's Strategic Plan and the Long-Term Financial Planning Strategy, and supports the desired service outcomes by evaluating risk against the Council approved asset levels of service. This approach provides senior decision-makers an objective way to consider resource allocation alternatives and communicate in a common language when evaluating between service areas and different asset portfolios.
Peel Enterprise Asset Management Plan. 2019. http://www.peelregion.ca/council/agendas/2016/2016-04-07-arc-agenda.pdf. http://www.peelregion.ca/finance/_media/2019-enterprise-asset-management-plan.pdf
---