7.4.3
Assessing Data Management and Governance Maturity
---
Data management and governance implementation can be viewed as a long term process of maturation. Several models and assessment tools are available to help agencies identify their current state, set goals for where they want to be, and create plans for moving up the maturity scale.
---
There are several different assessment tools tailored to DOT data programs that can be used or adapted as needed. In addition, several DOTs have created their own tools. Most of these tools are based on a maturity model.
A typical maturity model could include the following levels:
Level 1-Initial
Level 2-Repeatable processes
Level 3-Defined and documented processes
Level 4-Measured and managed processes
Level 5-Optimizing processes (continuous improvement)
TIP
Use a maturity model to identify gaps, prioritize initiatives and track progress over time.
For TAM information and systems, maturity levels can be assigned to different aspects of data management and governance. Assessments can also be conducted at different levels of the organization – from the agency-wide level, to the level of individual information systems (or even data elements).
Table 7.6 shows the data management and information system-related assessment elements from the TAM Gap Analysis Tool, developed under NCHRP Project 08-90. Figure 7.5 illustrates the data assessment guidance created under NCHRP 08-92. This process is suitable for application either at the agency-wide level, for an individual data program, or for a business process. It goes into greater depth than the TAM Gap Analysis Tool.
Table 7.6 - TAM Analysis Tool Assessment Elements
Element
Sub-element
Sample Assessment Criteria
Data Management
Asset Inventory

Complete, accurate, current inventory data
Critical asset components identified
Asset tiers identified to facilitate prioritization
Location-based data collection practices (e.g. GPS)
Appropriate mix of data collection technology
Inventory level of detail considers maintenance costs, accuracy, and asset criticality

Asset Condition and Performance

Periodic/regular collection of condition and performance data
Adequate level of coverage to ensure objectivity, consistency and repeatability
Assessments by knowledgeable personnel
Ability to monitor operational status of assets
Monitoring of public perceptions

Data Governance

Oversight and approval authority for all data elements
Single authoritative sources for shared data entities
Data stewardship roles and responsibilities
Data standards
Central metadata repository
Business rules for add/update/delete
Efforts to reduce redundancy
Quality assessment and improvement

Information Systems
System Technology and Integration

Updated asset management systems
Integrated to provide consistent information across assets
Serving multiple users and uses
Established requirements and standards to guide future development
Common geographic referencing
Procedure to manage changes in referencing
Common map-based interface

Decision-Support Tools

Pavement management system
Bridge management system
Assessments by knowledgeable personnel
Maintenance management system
Capital-maintenance tradeoff capabilities

System Features

Life cycle analysis
Cost data
Performance data – impacts of maintenance and preservation
Cost and performance prediction
Future demand prediction
Regular review of treatment intervention strategies
Benefit/cost or optimization analysis
Iowa DOT
Iowa DOT conducted a detailed data maturity assessment for over 180 data systems. Assessments were based on a standardized questionnaire administered to data stewards and custodians. The questions covered data quality, availability of metadata, whether a data retention plan was in place, the degree to which data collection was automated, and several other factors. Charts were produced showing maturity scores for each system, with roll-ups at the division level. This tool helps the agency track their progress over time and identify specific data improvements to pursue.
Sample Data Assessment Summary Radar Chart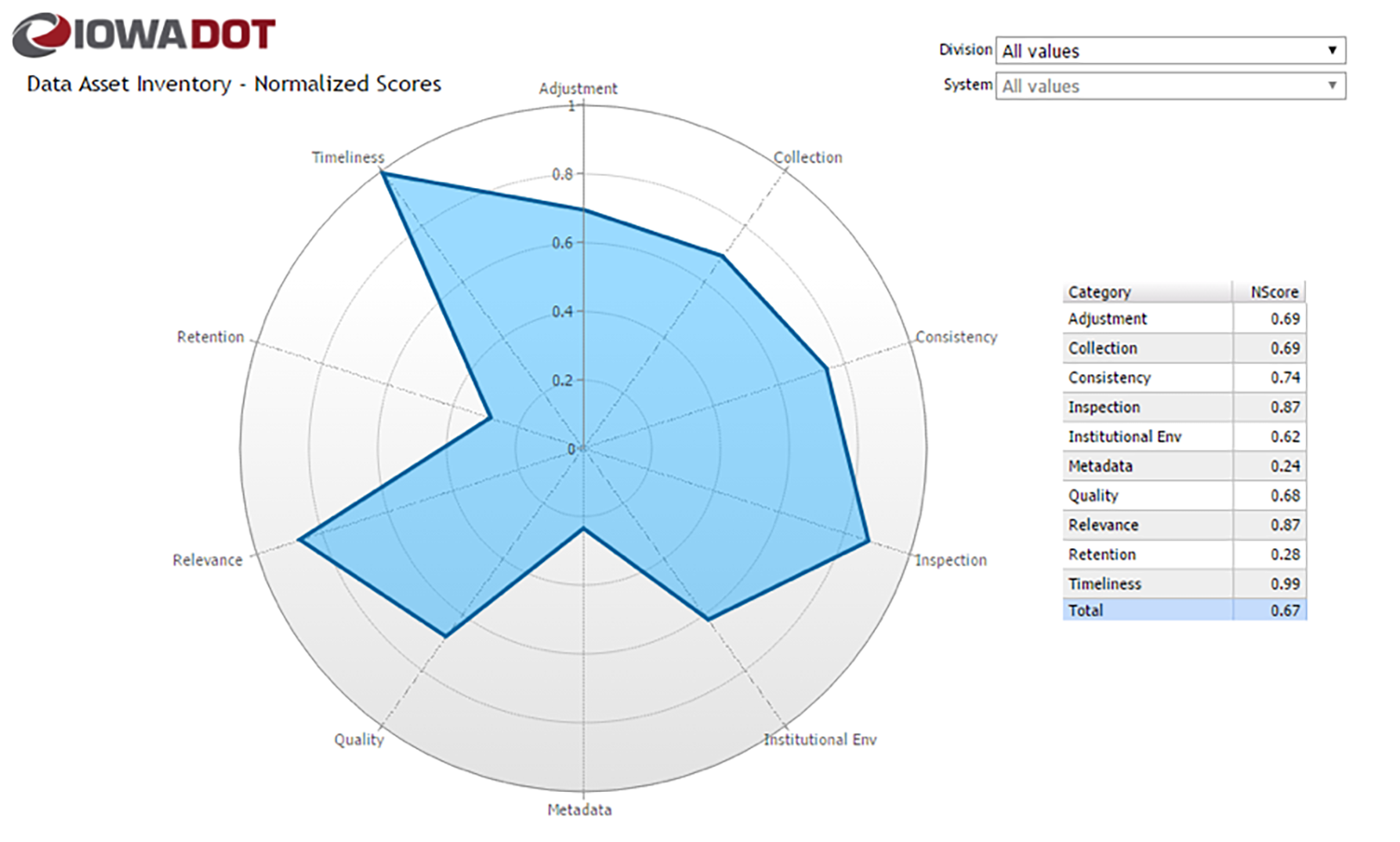 Source: Iowa DOT. 2019